We've been providing building services in Taunton and the South-West for well over thirty years, and almost all of the work we undertake is because of personal recommendation.
From huge redevleopments to new-builds, extension and restorations, we've done it all.
Our clients consistently comment on the quality of our work, and the pride which we show in it. Backed by a wealth of experience this all adds up to a deserved reputation of being one of Somerset's premier building companies.
We work closely with designers, architects and project managers to deliver on time, every time.
You'll find examples of our work on our website, and we're glad you're visiting, but to really find out what we're about and why we're the right choice for your project, please give us a call.
Telephone 01823 443586
Project Management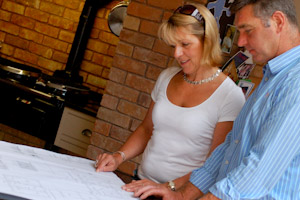 Part of the complete service we offer at Adsborough Builders is Project Management. Despite being builders at heart, our ability to manage, organise and oversee all aspects of your project means that we can look after everything involved in a build.
This approach provides the very real benefit of having just one point of contact from the initial consultations right through to the completion of the job. We have a team of architects from which we'll select someone best suited to your needs, or if you prefer, we can work with an architect of your choosing. Either way, you'll be dealing with one point of contact as work progresses, ensuring a partnership that works effectively and efficiently.
During work, we'll keep you informed and aware. We know how important it is that clients feel comfortable when a team of people are working at their home.
From relatively straightforward work, to the most complex type of builds, the team at Adsborough Builders get the job done.
Estate Management
One of our areas of expertise is the ongoing maintainance of large estates and country houses. Very large properties, such as this 3000 acre estate in the Quantock Hills, require a year-round effort. We're able to provide the right trades, at the right time, due to our wide skills base and dedication to the project.
Shown here are pictures from around the manor house and grounds, which we maintain to a very high standard. Our work included installation of copper roof on a veranda, a complete redecoration of exterior window frames and a sympathetic repair to a failing wall buttress.
Working with Architects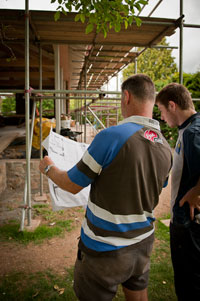 We've built a solid relationship with many architects over the years, and we welcome enquiries from anyone working in this field.
From conversions to renovations, new-builds to commercial developments, our relationship with architects has always been a strong one. Our project management abilities combined with our flexibility and experience make us a great choice for a wide range of builds.
Should you like us to be involved in a consultation and quotation for an upcoming job then please get in touch. We genuinely welcome all enquiries and will deal with them with the same professionalism and integrity that we afford our clients.
If you're a potential client who has their own architect in mind, that's no problem. We're happy to deal with any suitably qualified person(s) of your choosing.